School - years
When Daniel was very small child he self-reliantly claimed that he would sustain by painting, sport or music.


Dan´s father, who was very good at playing piano and was an active sportsman until his injury, supported Dan´s ambitions. He registered Dan to Arts School, but soon it was obvious that Dan wouldn´t became a painter.
As a child Dan learnt to play the flute and the clarinet. But he wasn´t interested in it too much, he hated practising and he sang what he wasn´t able to play. And his teacher used to tell him: "Dan, you shouldn´t play an instrument, you should sing". Dan also learned to play the piano at the music school twelve years.

Daniel did sports since he was small. Before his studies at the secondary school, he was hesitating wheather to study playing piano at the conservatory or to be student of sports grammar school. After all he started his studies at the technical college but a year later he went to sports grammar school - he played volleyball. He wanted to study Institut of Physical Education, his dream was to be a top-sportsman and later a coach. But from the age of eighteen he had some health problems and injured knee ligaments stopped his sports career. But he still likes many kinds of sports.

Then he started to play the guitar and sing. Together with his friend they started a music group and they played their own songs at various clubs in Prague.
Because Dan wanted the music to be his profession, he started his studies at conservatory in Prague. His teacher was Mr. Zdenek Jankovsky. Dan would miss no occasion to thank this outstanding teacher not only for teaching him to sing but also for being his guide through the world of the opera. Daniel finished the conservatory in 1993 by one´s own concert in Rudolfinum in Prague.

---
Professional art career
Thanks to inborn disposition, talent and diligence during his studies Daniel has beautiful, well-grounded voice. As he said to the reporters his vocal compass is two octaves and three quarters (from bass to tenor) but mostly he sings baritone.

Dan had his first theatre engagement during his studies. He appeared as guest in the Theatre of J. K. Tyl in Plzen and Theatre of F. X. Salda in Liberec.
Then he had an engagement in Teplice, where he played and sang various roles.
After that he was offered an engagement in Usti nad Labem Opera. During his first season he played in six opening-night performances. He also sang as a guest in the Prague National Theatre. He sang in Usti roles of Figaro (Figaro´s Wedding by W. A. Mozart), Escamillo (Carmen by G. Bizet), Sylvio (The Commediants by R. Leoncavallo), Don Giovanni (Don Giovanni by W. A. Mozart). Together with Usti nad Labem theatre company they played as guests in the National Theatre. Dan also danced the main role in the ballet Don Tichot (it was said to be a sight for Gods´eyes :-) ).



In 1995 Daniel took part in advertisement of the main role in musical Dracula.

His performance was indescribable, insuperable, wonderful.
This started Dan´s astral career.
Thousands of people were fascinated by his wonderful voice and dramatic art.
Next years Dan took part in the muzikal Dracula above all.


In 1997 Dan made his first solo album called Daniel Hulka. Dan said the album was as he himself.
You can hear Daniel´s beautiful voice from many other CDs.


In the spring of 1998 Dan toured the

Czech Republic with his megashow MISE (The Mission). Later it was redrafted into a theatre performance and it was presented in Pyramida theatre in Prague. Dan played and sang the main role Lord of Daemons.
Two CDs - MISE (The Mission) and Vzpoura (The rebellion) were made.

Although playing in MISE, Dan played in last performances of Dracula in Prague and from September in Bratislava, where Dracula was also performed.


Besides all these activities Dan also played in the film
The Luck of the Devil. Dan doesn´t sing in this fairy tale but plays role of the cruel King Brambas. But sings several songs on CD with soundtrack from this film.

He also gave the concerts which belong to unforgettable experiences.


In 1999 Daniel wanted to made a new album and to have a rest as well.

His new album Zive obrazy (Living Pictures) was edited on 4th October 1999 and is very beautiful.
Dan also played in musical Dracula in Bratislava and Presov (Slovac Republic), he took part in many benefit concerts, TV and radio programmes and he was invited to many parties. Dan and poet Tomas Belko wrote the novel Five Devils. He started to learn to play the percusse.
He started the tour with his new repertory in the autumn...

... so he didn´t have rest at all.



In year 2000 Daniel Hulka takes part in many benefit concerts,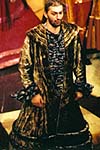 TV and radio programmes...
The second part of the cinematic fairy tale The Luck of the Devil 2 was prepared in summer. We will see Dan as King Brambas in it again.
At the end of August he sang Don Giovanni in the Theatre of the Estates (Stavovske divadlo) in Prague.

Daniel finished his new album in October 2000. Its name is Rozhovor (Conversation). In Autumn Daniel also gave the concerts with this new songs.
We can see him in main role in the musical Monte Cristo from December.

In year 2001 Dan took part in the muzikal Monte Cristo above all.

He realized several unforgettable recitals and concerts i Czech and Slovak Republic.
In July Dan sang the main role in Mozart´s opera Don Giovanni in The Estates Theater in Prague.
Besides all of these activities Dan was preparing for summer expedition to the Himalaya. He spend with his friends seven weeks in Nepal and north Indien.
Dan sang in several christmas concerts in churchs in Kosice and Prague and Ryba´s Mass (well-known mass of Jan Jakub Ryba) in the Prague State Opera.

In year 2002 Dan took part the main role in the muzikal Monte Cristo above all.


In May Daniel performed in the International television festival Golden Prague.
He sang in many benefic koncerts for children, too.
Dan sang lead role in the opera Don Giovanni in the Estates Theater in Prague in July.
In August Daniel´s singer´s recital Famous musical melodies and opera arias took place in the International music festival Cesky Krumlov 2002.
After big catastrophic foods in the summer 2002 Daniel Hulka takes part in many benefit concerts for the flood relief.
In December Dan sang in the Czech Christmas Mass by Jakub Jan Ryba in the National Theater in Prague.

---

The first night of the come back musical Dracula took place in March 2003 in Prague. Daniel Hulka sang the main role again.
Dan traveled five weeks the Middle America in the spring 2003. The first day he cut his nice long hair and clean-shaved the head and the beard.
This summer Daniel sangs the main role in the Mozart´s opera Don Giovanni in the theatre of the Estates in Prague again.




Dan sings in the world-known musical Les Miserables. Dan is the inspector Javert. Musical performance is in Goja Music Hall in Prague from september 2003.




Dan now take part in the musical Excalibur. The first night of this musical took place on november 3, 2003 in the TaFantastika theatre in Prague. He plays Mordred.
Daniel also gave the Christmas concerts in churchs and theaters in December.

---
Dan traveled two months i winter 2004 in the Thailand. After homecomming he discolor his short hair and beard to blond.
Dan sings in the musicals Les Miserables and Excalibur again.
The new Dan´s album Dilem ja was launched in May 2004 by Sony Music/Bonton s.r.o.
In summer he traditionally stars in the main role in the Mozart´s opera Don Giovanni in the theatre of the Estates in Prague.


---
Text: J. M., photo: FC Files, Tydenik TELEVIZE, Frantisek Ortmann


---
Home
Up
Czech