Dan was born on June 01 1968. He is very tall man (196 cm).



Although introvert, Daniel Hulka reveals to the mass media something about his hobbies.
Thanks to this his fans know that Dan´s favourite meal is chicken in any style, that he, as the real Czech, likes beer (and we also saw him smoke).

His favourite colour is black and he prefers silver jewels.
Besides volleyball, played till he was injured, Dan has devoted himself to many other sports: car racing, piloting the plane, billiards, ice hockey, all water sports, cross country skiing, cycling, riding a motorcycle,... and he has also tried bungee jumping).

His favourite flower is rose (although he admitted that since certain time he had been fond of tulips:))).

We know that Dan willingly takes part in benefit performances and, though he still has no children of his own, he goes on very well with them and he is glad to visit and give presents to those, who are ill, forlorn or handicapped.

Dan is married.

---
Travelling in the Himalaya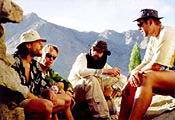 Dan likes the nature, mountains, the adventure. He prefers to make the opinion only when hi personaly contacts local natural, cultural and others conditions.

Dan and his good friends spend seven weeks in Nepal and the North Indien.


Travelling in the Middle America
Dan traveled through the Middle America (Mexico, Guatemala, Cuba) in sping 2003.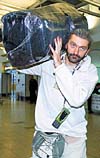 The first day in Mexico he cut his nice long hair and clean-shaved the head and the beard.

Dan during the tracking in Guatemala forest fell to the deep gorge and injured. His accident stoped without the bad effect fortunately.


---
Motorbike

After all Dan saved up money for a motorbike and in summer 1998 he bought Triumph Tiger 900, a gorgeous toy of chilli-red colour (price 342 000 including VAT). The photographer of NeiReport took photo of Dan, sitting on this motorbike, dressed in film costume of king Brambas whom Dan plays in the fairy tale "The Luck of the Devil".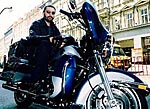 Later Dan took a ride by his big new Harley (Ultra Classic Electra Glide).
From spring 2002 he saddled motorbike Honda X-Eleven (Naked), a nice machine too.